MWE is a German company that designs and manufactures modern sliding track systems for barn doors. Each sliding barn door hinge is crafted by experts who understand the importance of blending design with functionality.
MWE Hardware Options for Sliding Doors
Campus
MiniMax
Protec
Supra
Klassik
Duplex
Duplex S
Twin
Spider
Chronos
Vario
Akzent Retro
Purist
Steel
Terra
Terra H
Terra M
Terra MXL
Terra Akzent
BarnDoorHardware.com prides itself in offering many quality options for sliding barn door hardware, including MWE. To begin to choose the appropriate or best sliding track system for your home, it's important to understand the differences between the many MWE Hardware options featured for sale through our website.
About MWE Hardware
MWE Hardware is a German company that designs and manufactures high-end barn door hardware. For years, MWE has offered their products throughout North America, though their manufacturing facilities are 100 percent Germany-based. Sold through authorized partners only, MWE is one of the many high-quality brands of
sliding door hardware
that BarnDoorHardware.com offers.
The founder of MWE, Mario Wille, spent years working in his father's steel production business gaining an expert understanding of how to produce the highest quality steel possible. Eventually, Wille decided to combine his experience and education in both architecture and engineering to formulate his own company, which is now known as MWE. Like his father's steel business, Wille's company was founded in the conviction that all products be quality, cutting-edge, and unique in design. Even years after its commencement, MWE still maintains these beliefs, instilling them into everything they design, manufacture, and, eventually, sell. Wille keeps his manufacturing facilities up-to-date in order to stay committed to constant improvement and consistent customer satisfaction.
In addition to unique and high-performance sliding barn door hardware, MWE crafts pivot door hardware, door handles, interior ladders, handrails, furniture,
sliding shower door
hardware, as well as other hardware accessories. These products also provide a unique and durable option for homeowners or designers who are looking for reliable options with modern, sleek designs.
Many customers choose to use MWE throughout their homes because their materials and designs have a track record of longevity and beauty. Even professionals, including contractors and interior designers, regard MWE as one of the best options for long-lasting, quality sliding barn door hardware and beyond. It's very common for a first-time MWE customer to become a lifelong customer.
19 MWE Hardware Options for Barn Doors
There are currently several options for sliding barn door systems, and MWE's offerings are constantly expanding because of their commitment to innovation and the high demand for their products.
MWE tracks and hangers for sliding barn doors are crafted with quality stainless steel made 100 percent in Germany. The systems are available in many finishes, including 600 grit "jewelry finish", satin-matte stainless steel, polished stainless steel, powder-coated RAL color, and gold plated. Most of the hardware elements can be customized to your door's dimensions, including length, thickness, and weight. Most of the systems offered by MWE are for both glass and wood doors, though some systems indicate that they can only be used for one of these materials.
If you're looking to replace your current hardware, or if this is the first time you are considering a sliding barn door, MWE is on the list of hardware to consider. To gain a better understanding of the types of sliding barn door hardware offered through MWE on BarnDoorHardware.com, take a look at the many beautiful and diverse examples below:
Campus
MWE's newest design
.
This modern hardware features a sleek stainless steel rail fit for glass or wooden doors. The system can support up to 230 lbs.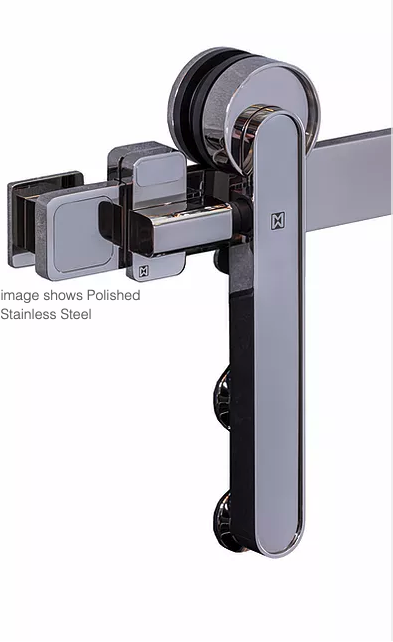 MiniMax
This low-clearance option features the smallest top-mounted wheel offered by MWE Hardware. The track is ideal for wood or glass cabinets, displays, and door panels with a maximum weight of 99 lbs. The roller and rail are subtle in size as to not distract from the smaller panel's features.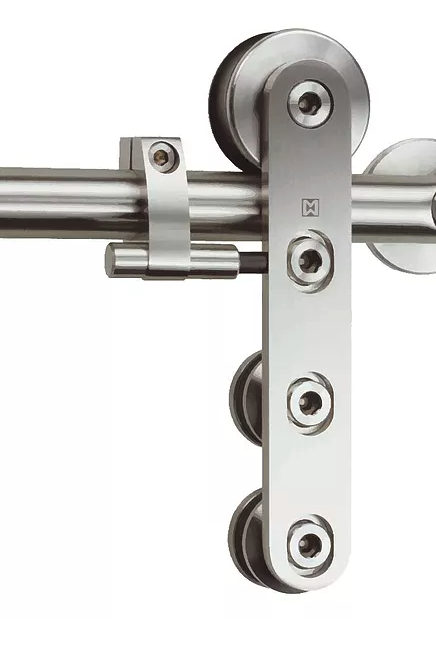 Protec
Similar to the MiniMax, this track's design features the smallest top-mounted wheel, but a slightly larger rail. The Protec can hold up to 231 lbs of either glass or wooden panels.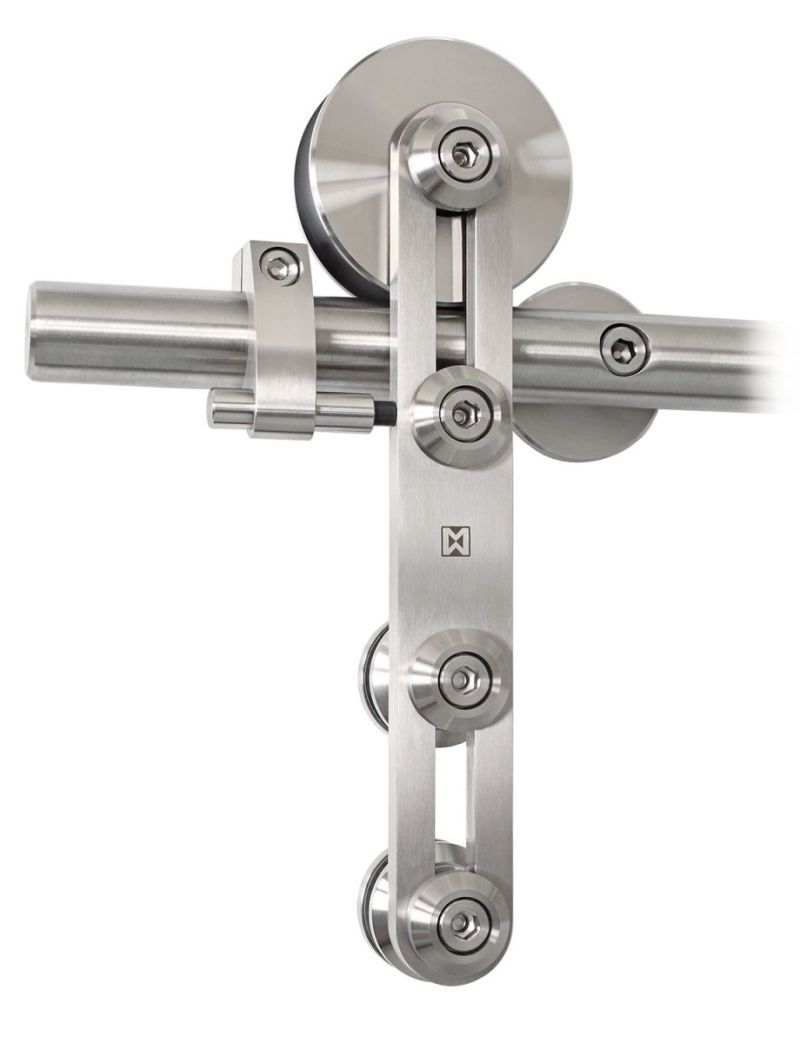 Supra
Featuring the same low-clearance wheel and one-inch diameter rail size, the Supra's design mimics that of the Protec. Its function, however, differs: the Supra can hold up to 298lbs and is only suitable for wooden panels. The Supra's top-mounting feature is designed for door panels whose surface cannot be drilled into, either for functional or decorative reasons.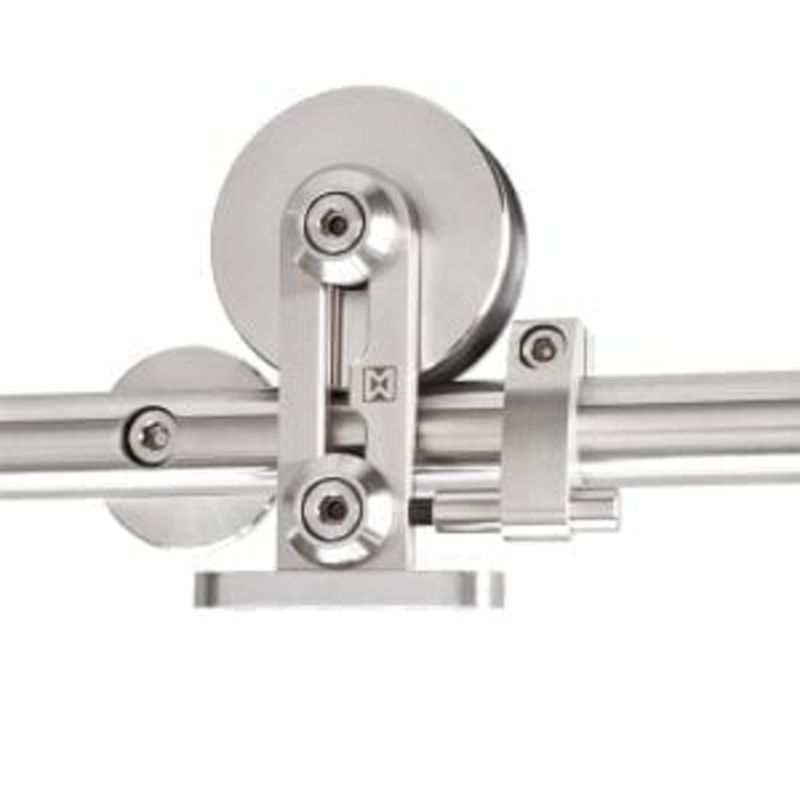 Klassik
Also known as the "Classic", this door hardware option is MWE's original design with a bit of a modern update. This wheel model is extremely adjustable and can hold up to 386lbs of wood or glass panels. The hanger features three attachment points creating an extremely reliable and stable hold.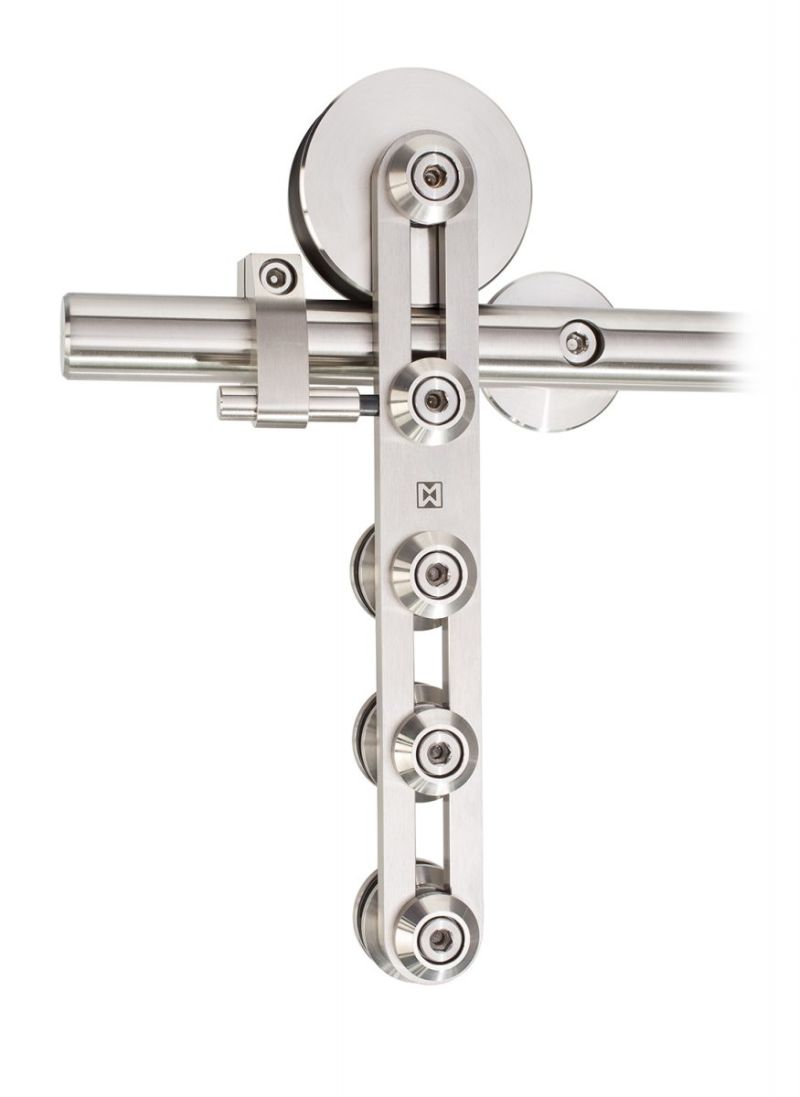 Duplex
Larger doors require more support, making the Duplex an ideal option. The double wheels and swiveling strap evenly distribute divide up to 551 lbs.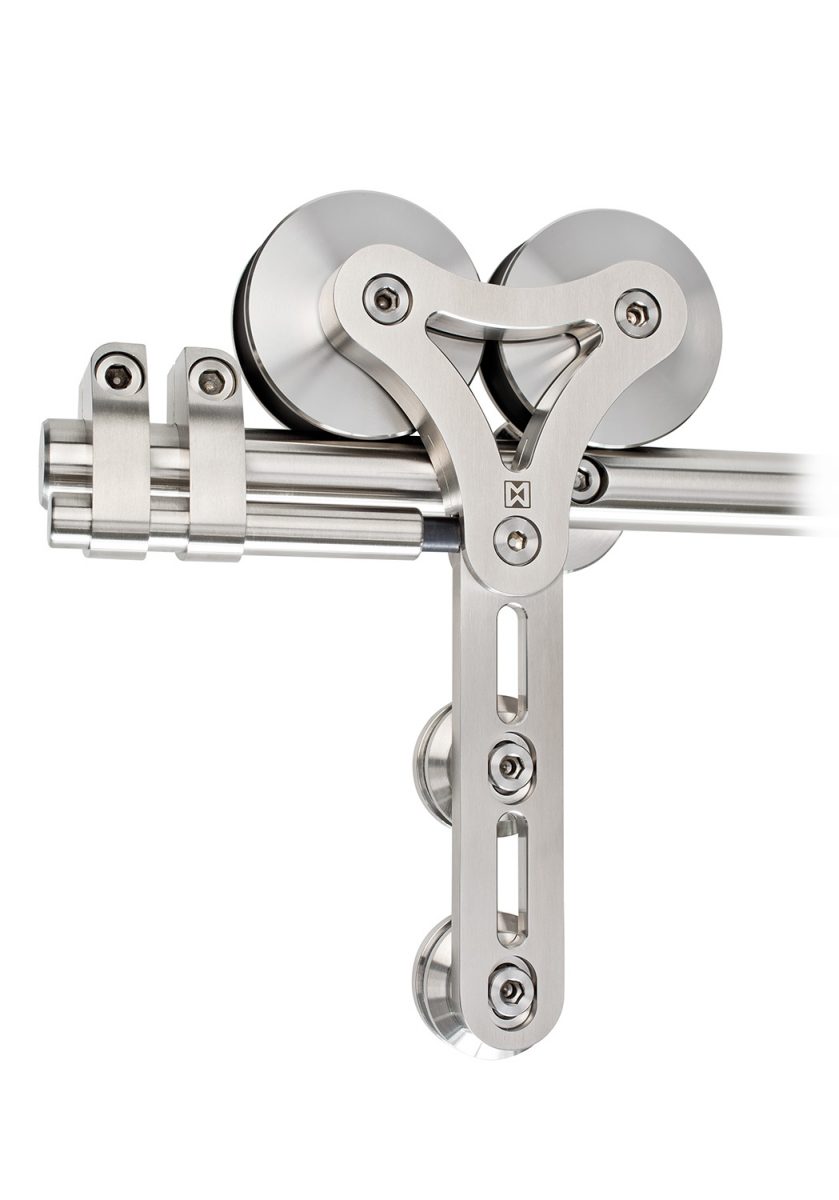 Duplex S
The Duplex S is similar in design to the standard Duplex but suited for thicker, wood doors or for situations where surface drilling is not an option. This system features a wide pedestal that attaches to the top of the panels. The track can hold up to 419 lbs.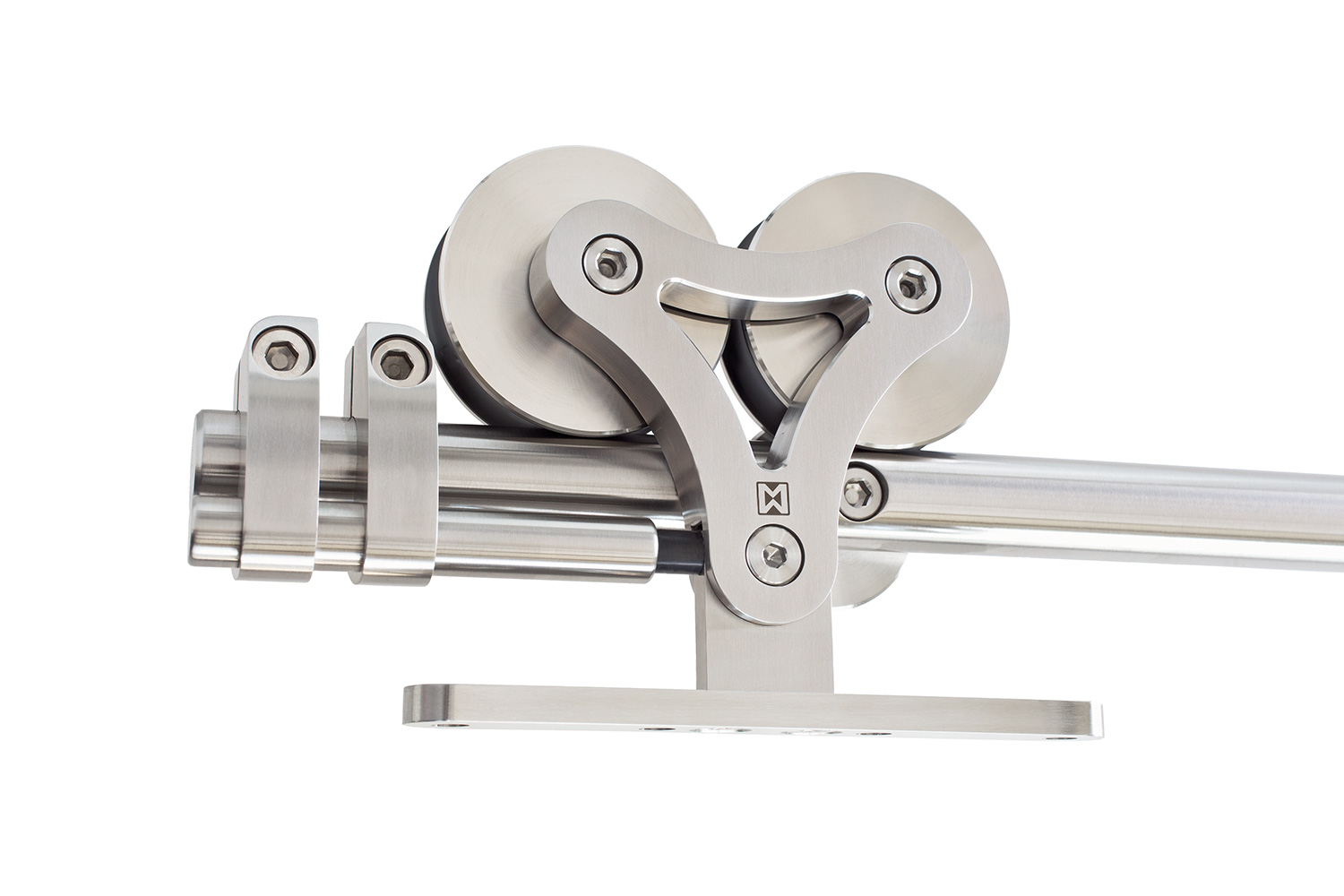 Twin
This MWE system allows a door panel to reach from floor to ceiling by utilizing vertical twin rollers that stand one on top of the other. Usually, this system is installed into the ceiling to facilitate this feature; however, it can be attached to the wall as well. Either way, the Twin can support 298 lbs.
Spider
The Spider includes several elements that seamlessly form an impressive and premium hardware design that can support up to 386 lbs. This door system features "spider web" rosettes for wall-mounting, as well as handles and a curved door stop.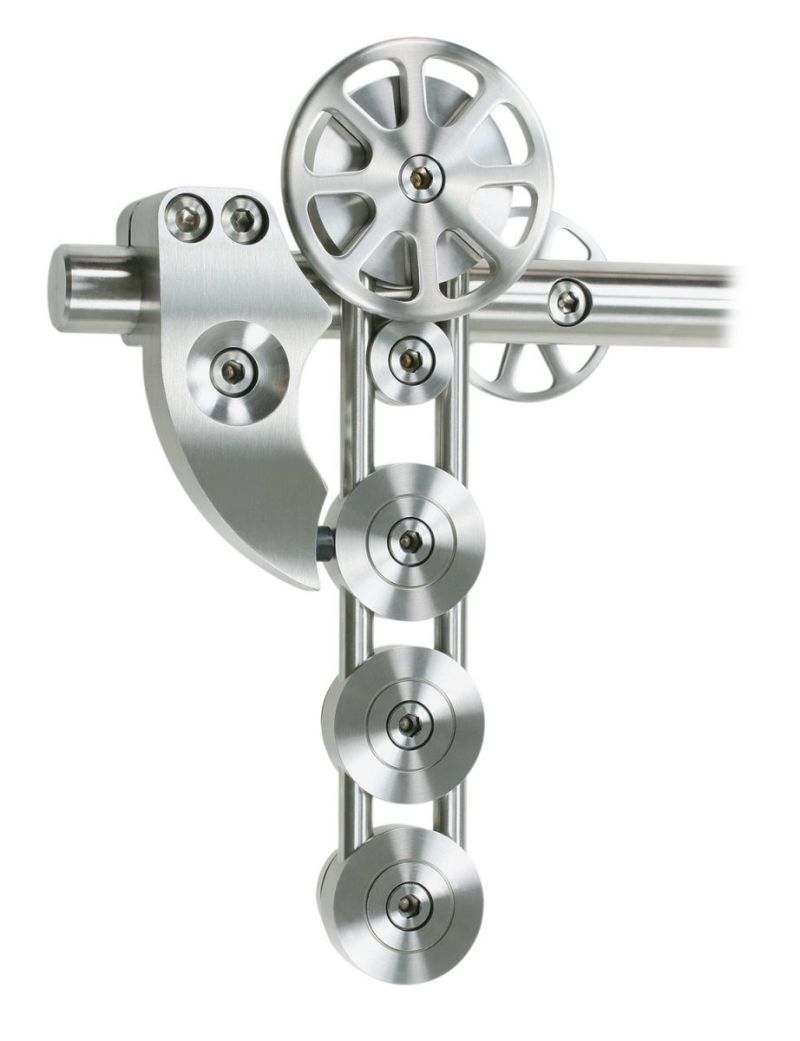 Chronos
Chronos' stainless steel modern hardware matches the Spider in functionality with a few slight changes in appearance, particularly in terms of the doorstop, which is slightly larger and more traditional than that of the Spider. Like the Spider, the Chronos can hold doors as large as 386 lbs in weight.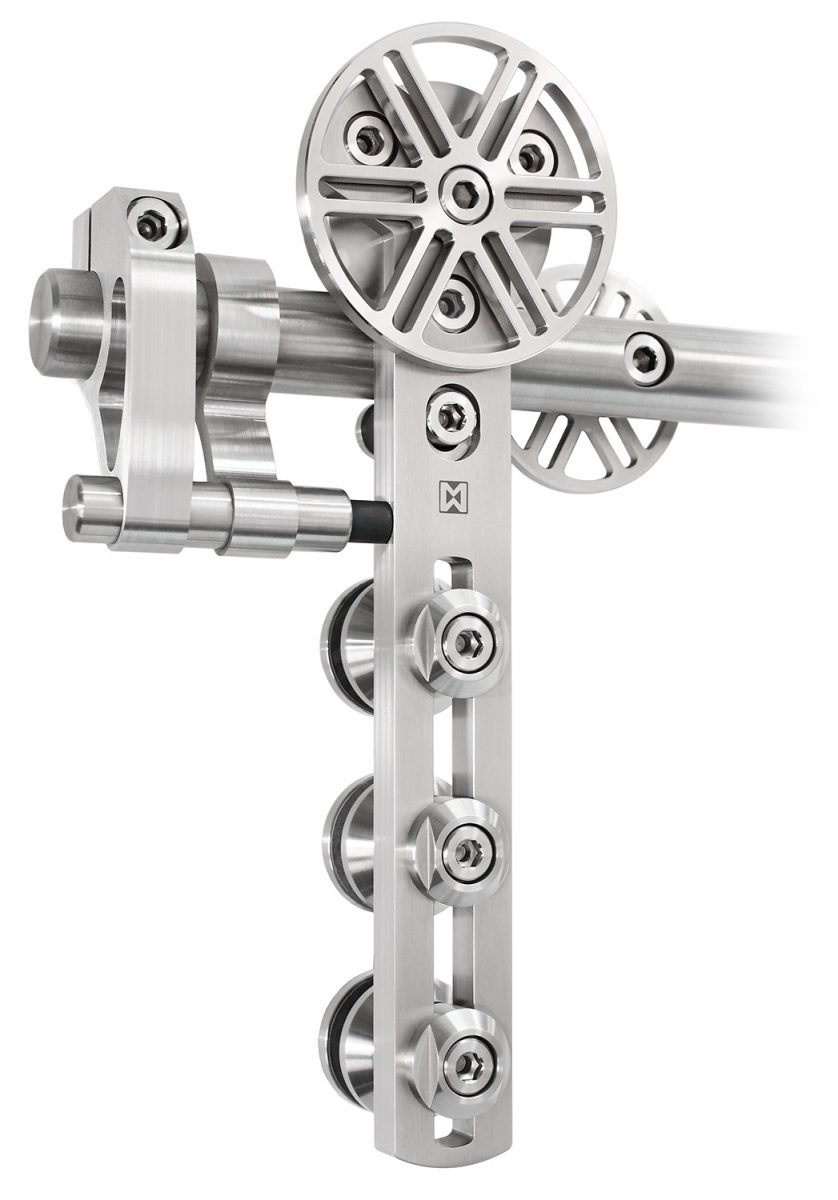 Vario
Unlike any other design, Vario's wheel pivots to allow both a flat or curved door to slide across a curved barn door track. The system is suitable for wood or glass and can hold up to 298 lbs.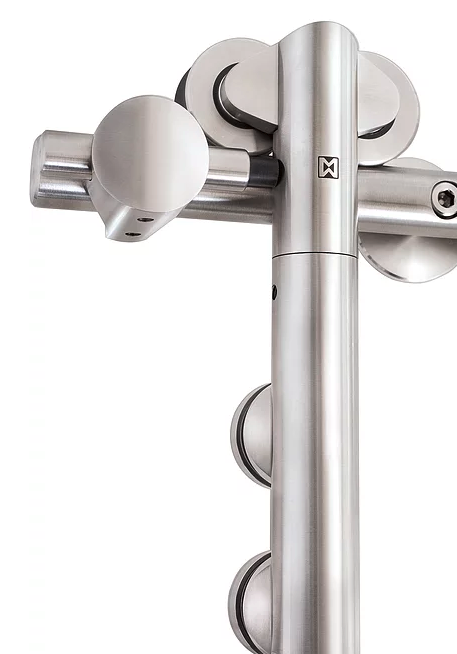 Akzent Retro
In this design, the hardware's wheel is hidden behind a square wheel assembly, making it appear that the square is, in fact, rolling. Like most of MWE's products, this track can be used for both a wood or glass door. Panels must not exceed 298 lbs.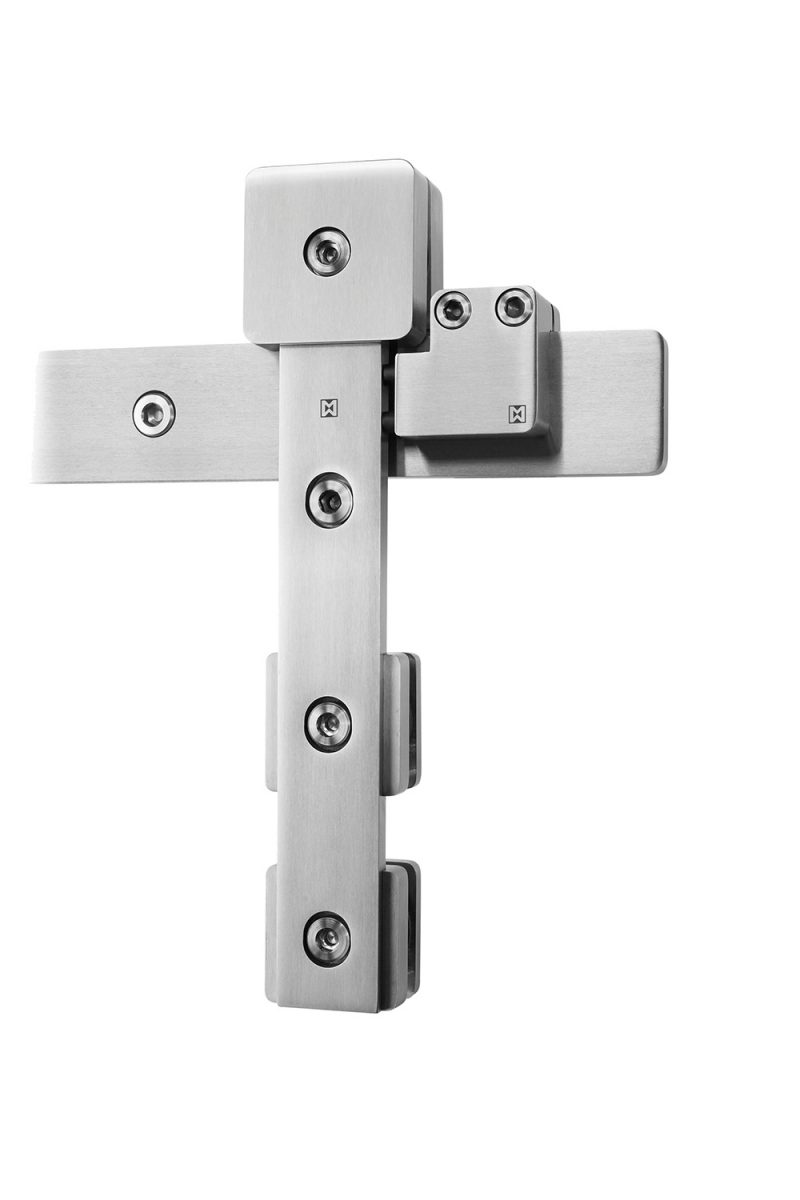 Purist
Purist is the minimalist style of MWE. The wheel and all the screws are concealed behind sleek stainless steel. Like many of the lower-weight bearing options, this system can hold up to 298 lbs.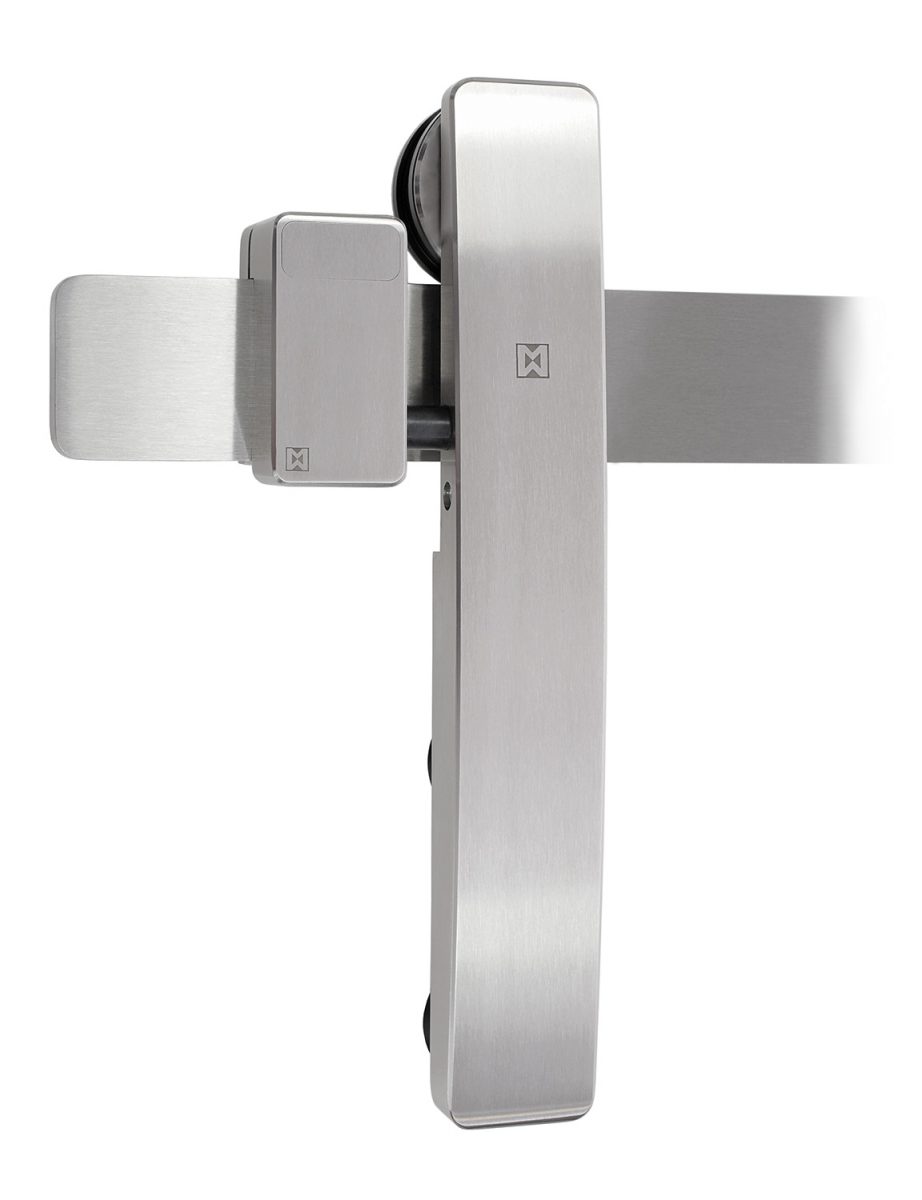 Steel
With the ability to support heavier loads up to 419lbs, this hardware is the perfect combination of durability mixed with a rustic design. The gentle curve of the hanger softens the system's innate industrial appeal, making it a great option for homes with rustic-chic flair.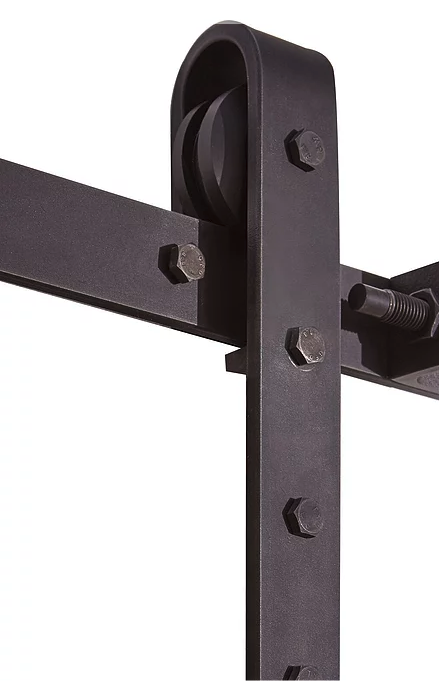 Terra
The Terra hardware family features five different designs that support the weight from the base. Each system's unique base track creates more possibilities for barn door usage within unconventional spaces. The original Terra track supports up to 298 lbs and is suitable for wood or glass doors.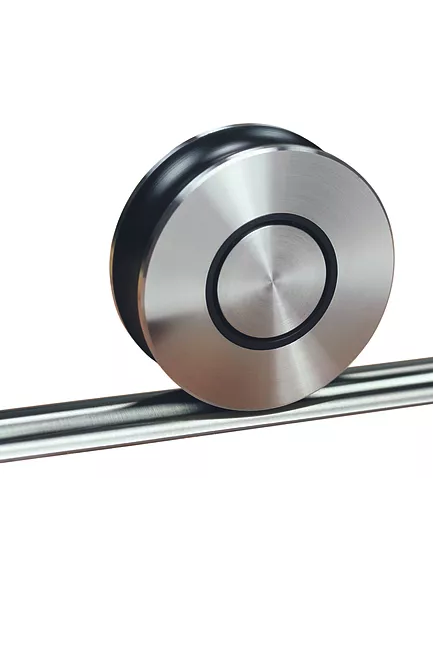 Terra H
This particular Terra system is designed to be used only with wood doors that are more than 1 9/16" thick. The features of the Terra H track make it the ideal option for barn door systems like pocket doors and multi-bi-passing doors. The system can support up to 298 lbs.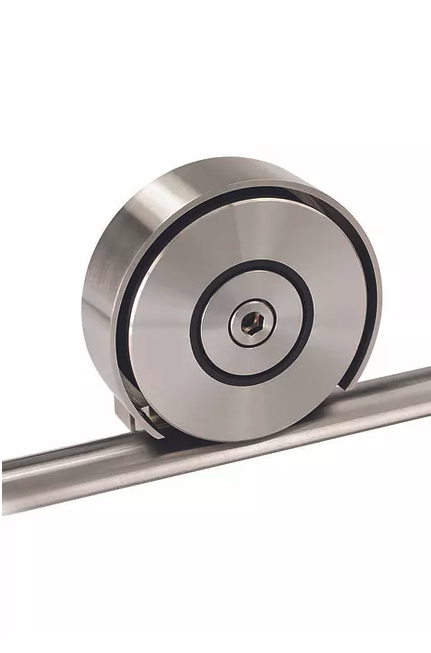 Terra M
Designed for glass barn doors but with the same functional design as the Terra H, the Terra M is also another great option for pocket doors and by-passing doors with multiple panels. This system, however, can support more weight than the Terra H at 342 lbs.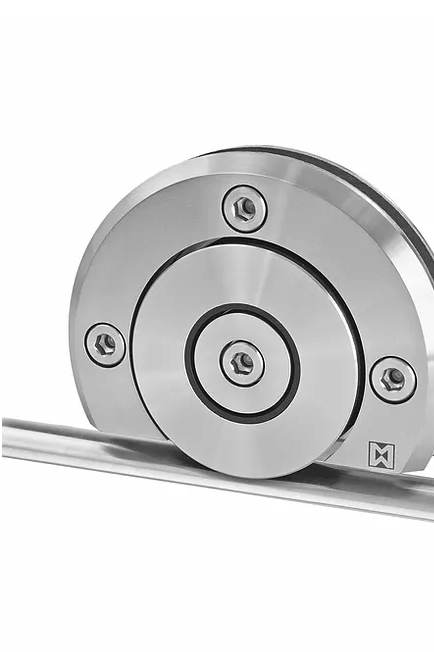 Terra M XL
This system can be utilized within larger door openings. Engineered to hold up to 970 lbs while also featuring designer details, the Terra M XL provides structure, functionality, and aesthetics in one sliding barn door track.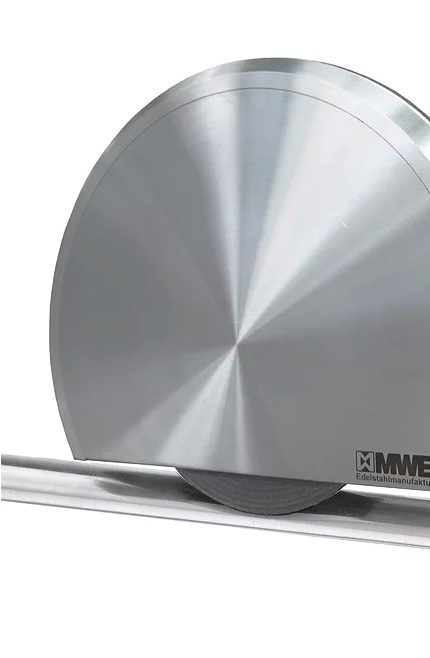 Terra Akzent
A member of both the Terra and Akzent family, this system features a square "wheel" that creates a sleek, modern touch but with base weight-bearing. This door is another lighter weight-bearing option that can be paired with panels that weigh up to 220 lbs.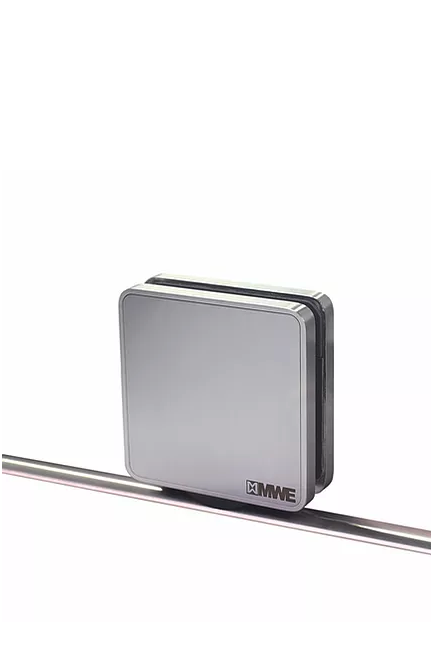 MWE Hardware: A Proud Offering of Barn Door Hardware
BarnDoorHardware.com features the world's largest selection of sliding door hardware and is proud to include MWE sliding barn door systems as an option for customers. As with other sliding door products in supply, MWE hardware can be fitted to the
barn doors
offered on our website. BarnDoorHardware.com makes the selection process easy when customers want to buy MWE door hardware and door panels in one purchase. Easy-to-navigate drop-down menus allow for custom combinations of panels, tracks, and additional hardware. Customers are able to mix and match products from several different high-end, quality hardware companies, including, of course, MWE.
Like other BarnDoorHardware.com products, MWE Hardware USA provides customers with sliding hinges fit for traditional, custom, and specialty doors. Each MWE sliding door hardware product meets the highest performance standards and, as many of our offerings do, provides solutions to weight-bearing, spacing, and design issues that some designers or homeowners may encounter. MWE hardware can be considered architectural hardware because, like architecture, the look matters as much as the functionality.
As MWE's selection proves, their sliding barn door hinges can truly be incorporated into even the trickiest of situations. Whether your barn door is as small as a bathroom or kitchen cabinet, or as large as a breathtaking, floor-to-ceiling double door panel, MWE offers a solution that allows you to enjoy and use your sliding doors. Their design can be subtle and unassuming or bold and eye-catching. Additionally, the multiple finishes that MWE offers allow homeowners choices that are sure to match their ideal home decor. Rest assured, though MWE sliding hardware varies in appearance, there is always the same trustworthy stainless steel engineering at the core of the design.
If you're interested in incorporating reliable and stunning hardware into your home, take a look at the MWE hardware featured on BarnDoorHardware.com. As always, our website provides a simple and seamless process for creating your ideal barn door and hardware combination, and there is always a team of experts available to answer any of the questions you might have.
| | | | |
| --- | --- | --- | --- |
| | | | |
| Protec | Supra | Twin | Akzent Retro |