Whether you're looking for barn door hardware for a residential home or commercial interiors, Krownlab Hardware offers a selection that will complement your desired aesthetic. Krownlab Hardware for barn doors gives a modern and contemporary look to your sliding barn door, be it a wood or glass sliding door.
5 Krownlab Hardware Options for Sliding Barn Doors
Baldur
Loki
Oden
Axel
Rorik
These options give the functionality of a traditional barn door but do so in a way that they can easily fit into the most modern designs. Additionally, Krownlab gives you the flexibility to use sliding barn doors wherever you want, thanks to its door hardware system that can be trimmed to the exact length your project requires. This way, you have the freedom to design your space exactly how you envision it.
About Krownlab Hardware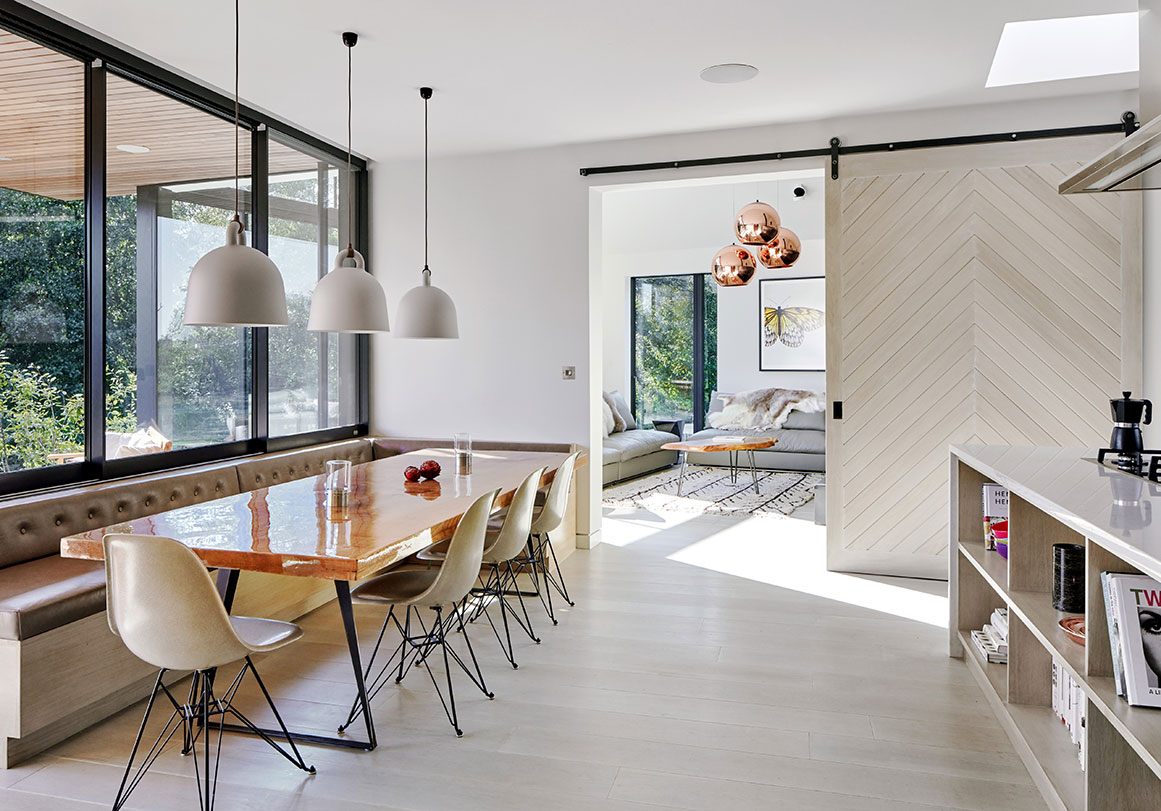 When space efficiency is a concern in design, sliding doors are an ideal solution. However, finding the right style to fit into your vision can be complicated, as Krownlab founder, Stefan Andren, found out when he moved to Portland, Oregon. When he couldn't find a sliding door he liked, he used his background as an industrial designer to create his own. Eventually, he started Krownlab to bring his sliding door hardware to the masses.
Krownlab specializes in engineering high-end architectural hardware for both commercial and residential interiors. Krownlab barn door hardware uses a custom patented industrial bearing that gives it a sleek, modern look. The company's precision manufacturing creates a high-quality product that provides superior functionality.
Krownlab Hardware Options for Sliding Barn Doors
While Krownlab sliding door hardware is designed for professionals, both architects and DIY-ers alike benefit from the sleek, high-end designs. Krownlab's minimal designs offer peak performance by using the patent-pending Tru-Level™ System. This unique system gives you a series of adjustable features that makes installation a cinch, giving you a barn door that slides smoothly and quietly.

Krownlab door hardware uses premium finishes that do not crack, chip, or flake, fitting into any interior space. Save space in your bedroom, use them to hide your entertainment center, or give a modern look to a dated conference room. Modern barn door hardware can help you achieve the exact aesthetic you want in your space.

Here is a complete list of Krownlab's current sliding barn door hardware offerings:
1. Baldur
Krownlab's iconic hubless bearing makes the Baldur sliding barn door hardware instantly recognizable. This high-precision bearing lets the door slab slide along the track smoothly and silently, all while giving the illusion that your track system is floating. Using an oversized hubless bearing means you can focus on selecting the right door panel for your space, knowing it can withstand the weight of the panel you love while meeting ADA pull force requirements.
The Baldur barn door hardware can be ordered with a top mount, face mount, or glass mount fastener, depending on your door panel material and the overall aesthetic you want to achieve. The Baldur fastener features a fine linear grain that is smooth to the touch and visible with both the brushed stainless and black stainless finishes.
You can use Baldur barn door hardware with nearly any type of door panel on the market. It has a maximum standard weight capacity of 550 lbs, and the available top mount fastener works exceptionally well with thicker door panels (as long as your slab is at least 1-3/8"). Krownlab offers the specialized glass mount fastener as part of the Baldur collection if you want the hubless look with a glass door panel.
Baldur's iconic hardware kit can also help you make sure your fireplace is the center of attention, even when the flames aren't lit.
| | | |
| --- | --- | --- |
| Baldur Top Mount | Baldur Top Mount | Baldur Face Mount |
2. Loki
For designers and homeowners who want the functionality of a sliding barn door but aren't into the traditional farmhouse style, there's Krownlab's Loki design. The compact, low-profile design offers a touch of elegance in any space while maintaining the high-precision performance expected from Krownlab.
Loki uses a simplified trolley and wheel system constructed from high-grade anodized aluminum finished in either a satin silver or black satin finish. The trolley and wheel system uses Krownlab's unique two-part track that conceals all fasteners. This system's low-profile design makes it an ideal solution for high-use projects, meeting ADA pull force requirements and integrating seamlessly into both commercial and residential designs.
Simply opt for whichever door panel complements your space, as the Loki hardware kit offers multiple mounting systems and can support doors up to a maximum of 200lbs. For thicker doors and the smallest profile, the Loki top mount is recommended. Or, opt for the face mount for panels ¾" to 2-½" thick or a glass mount for glass panels 10mm, 12mm, 15mm, or 19mm thick.
If you're looking for a barn door hardware kit that is compact and professional for a family room or conference room, Loki delivers with its elegant design.
3. Oden
If you're looking for a sliding barn door hardware kit that is modern and timeless, Krownlab's Oden hardware certainly fits the bill. Oden hardware has been recognized throughout the industry for its innovative and highly versatile design. The clean lines of Oden let you easily integrate this hardware into any residential or commercial design.
Using Krownlab's Tru-Level™ system, installing Oden hardware is fast and easy. Likewise, the seamless track means your design will be free of visible fasteners and can accommodate a wide range of door sizes, no matter if you have a framed wall or a glass wall. Oden comes in a unique brushed stainless or black stainless, both of which feature a fine, smooth to the touch, linear grain that adds a sophisticated touch.
Oden barn door hardware offers smooth performance with door slabs up to 400lbs, whether your door is glass, solid wood, metal-clad, or composite. Like many of the other available Krownlab sliding door hardware options, the Oden door system is available in top mount, face mount, and glass mount, depending on the material of your door slab. All of these mounts are ADA compliant and can be integrated into any design, from the professional office to the residential farmhouse.
The award-winning design of Oden is sure to elevate your space with the modern look and the high performance you desire.
| | |
| --- | --- |
| Oden Top Mount | |
4. Axel
Traditional sliding barn door hardware is ideal for a farmhouse but can stick out like a sore thumb in more professional settings. This doesn't mean that commercial spaces can't have the benefits of
barn doors
. Krownlab has taken the classic barn door hardware and given it a modern twist with their Axel barn door hardware.
Using the same wheel and track system barn doors are famous for, Axel's modern redesign is quiet, safe, and durable. While the overall look is more modern, key elements of the traditional barn door remain, including rugged visible fasteners and a beautiful three-inch wheel with exposed customer-engineered bearings. Axel's simple yet elegant look is sure to enhance commercial and residential interior design.
Axel's heavy-duty design works with wood, metal-clad and composite doors, ¾" to 1-¾" thick, with a weight capacity of 200 lbs. You can opt for a traditional face mount or a more discrete top mount, depending on your space and door thickness. Axel is available in raw steel, Krownlab's most industrial finish, that shows the natural characteristics of the steel. You can also get Axel in black carbon steel or stainless steel with a smooth-to-the-touch grain.
Whichever finish or mount you choose, Axel's design is ADA compliant, even at full slab weight. Just note that because these are steel, so there is more maintenance required to keep them at peak performance. If maintenance is a concern, consider one of Krownlab's other modern designs in a premium stainless finish.
| | | |
| --- | --- | --- |
| Axel Face Mount | Axel Face Mount | Axel Face Mount |
5. Rorik
Not all barn door hardware is created equal. Rorik is designed explicitly with glass door panels and wet environments in mind. Integrating a sliding barn door into your bathroom's design with this sophisticated hardware can drastically elevate your bathroom's overall style.
Rorik is one of Krownlab's most flexible hardware systems. It offers complete design flexibility—easily accommodating door configurations up to 142" inches wide and a glass panel up to 150 lbs and ½" thick. Rorik's design also meets all ADA requirements for roll-in or transition needs.
The unique characteristic of Rorik hardware is that it appears to float mid-air, thanks to the concealed fasteners and glass panels. Unlike Krownlab's other modern hardware, Rorik offers two unique mounting systems--Alcove and Corner. Both of these mounting systems are available in a brushed stainless or black stainless finish.
Because the Rorik system is designed for wet environments, you'll continue to get a silky-smooth slide along the track in both wet and dry conditions. Likewise, careful consideration has gone into selecting finishes that will not crack, chip, or flake under wet conditions or high use.
When designing a bathroom that feels luxurious in a hotel or your home, every square inch counts. Krownlab's Rorik barn door hardware gives you back the space that would be eaten up by a glass door and saves you from the dated look of a traditional shower curtain.

Choosing the Right Sliding Barn Door Hardware for Your Space
Sliding barn doors can be the perfect solution if you are pressed for space or looking to add visual interest to your interior design. Whether you are looking for a hardware kit for a door, a cabinet, or a tv stand, barn doors can add a unique look to your space. With so many options available, choosing the right barn door hardware can be overwhelming. The main factors you want to consider are the look you want, the space you have, and how much you want to spend.
Krownlab makes extraordinary architectural hardware, but there are plenty of other great manufacturers out there that offer modern and traditional barn door hardware systems. While you can hunt for the perfect hardware online or in your local hardware store,
Barndoorhardware.com
makes it easy by offering a wide range of beautiful products—from rustic and traditional styles to sleek modern styles from Krownlab and other leading manufacturers. This way, you can easily find the hardware you've been dreaming of for your space.
With a staff of seasoned professionals,
BarnDoorHardware.com
is constantly working to bring you the most unique and interesting barn door hardware for your project, whether you're a designer or a DIY-er. We are ready to answer your questions about barn door hardware and accessories so you can create a space you absolutely love. We have everything you'll need to get a complete look, from track systems, barn door panels,
barn door handles
, roller guides, door stops, privacy locks, and more. The hunt for the perfect barn door is over.