So you're looking to upgrade your space, you've done some research on some easy DIY home improvement projects, and you've stumbled upon barn doors. What do you do?
Below you'll find a helpful guide when determining whether or not a barn door is right for your space!
How much room are you working with?
To install a single barn door, you are going to need enough wall space for the door to slide completely open without overlapping the door opening. Most barn door manufacturers recommend ordering a track length that's double the width of the door to ensure you have complete access to the opening when the door is slid open. A great thing to consider before you order a barn door, is if you have enough space next to your door opening to allow a barn door to function properly. Believe it or not, barn doors are actually great space savers in comparison to hinged doors. Hinged doors require a lot of space to swing open and close, which can result in a space that feels cramped or cluttered. While barn doors lay flush with the wall keeping your space looking open and organized!
What's the average noise level in this space?
Barn doors vary in the amount of noise cancellation they offer depending on what material they are made from, how they're installed, and what features they're paired with. A solid wood barn paired with an adjustable spacer and a door sweep is going to give you the most noise cancellation. The new Adjustable Spacers by Rustica Hardware are perfect for getting your door as close to the wall as you can without banging up against it. Door sweeps can also be installed on each side on the barn door for maximum noise cancellation!
How low are your ceilings?
You should also take into consideration the size and style of barn door hardware you'd like to install. Different hardware styles require different clearance amounts, however, nowadays you can find low clearance barn door hardware, big wheel barn door hardware, and even ceiling mounted barn door hardware making it easy to find an option that will fit your unique space!
What style is your home decor?
Barn doors come in all different shapes, sizes, finishes, and textures perfect for just about any style of home! Barn doors were traditionally a rustic styled home decor piece, however, with styles evolving and the barn door industry growing you can find modern, industrial, grand-millennial, and even contemporary styled barn doors!
Are there studs where you want to hang your barn door?
Determining where your studs are located and if they line up with where you want to install your barn door is another very important consideration. Barn door tracks can be ordered with or without pre-drilled holes, depending on where your studs are located and if you're confident the pre-drilled holes will line up with them. If your studs don't line up or you can't seem to find them, you can always install a support header which will act as an anchor for your barn door, no studs required!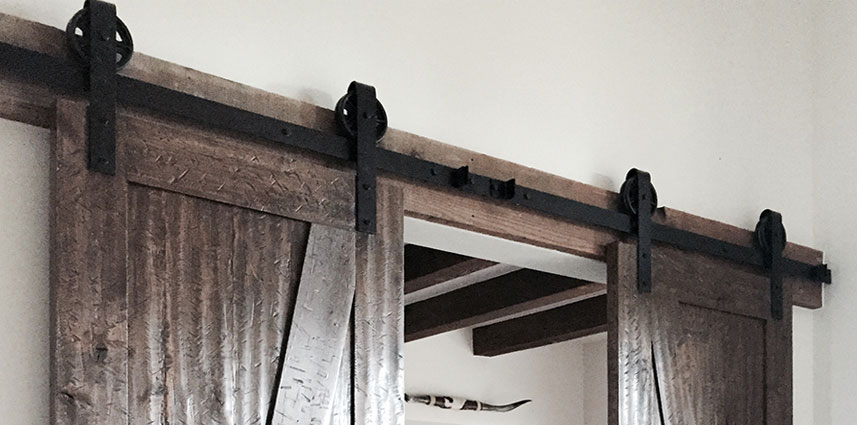 If you have any additional questions about barn doors or about whether or not a barn door is right for your space feel free to contact us, we would love to answer any questions you may have!
Make sure to follow us on Instagram and Facebook @barndoor.hardware for more barn door insights and home decor inspiration!