Your laundry room is probably one of your least favorite rooms in your entire home, for one reason and one reason only, LAUNDRY. If you're like us, we only go in there when we need to put a load in or take a load out. Laundry is definitely not the funnest thing in the world, but having a stylish laundry room that exudes beauty will make doing laundry just a little bit better! These 10 trendy laundry room ideas are bound to make your next DIY project list, Pinterest board, and home decor favorites!
1. Bohemian Bliss by Kathleen Field (@lindsay_hill_interiors)
This bohemian space features a very simple look with all the detail and design in the barn door and the patterned tiles. Patterns are such a fun element to incorporate into a laundry room design, making the space a little more lively and joyous. Adding a designer metal barn door can also do wonders for your laundry room, it allows natural light to flow through the space and beyond!
2. Nature's Neutrals by PLM Designs LLC (@plmdesignsllc)
This neutral pallet mixed with a few of nature's most cherished elements is simply stunning! This look goes to show that you don't need a lot of patterns or bright colors to make a space beautiful. From the gray cabinets to the wood door, this farmhouse modern look is a stunning yet simple one to accomplish!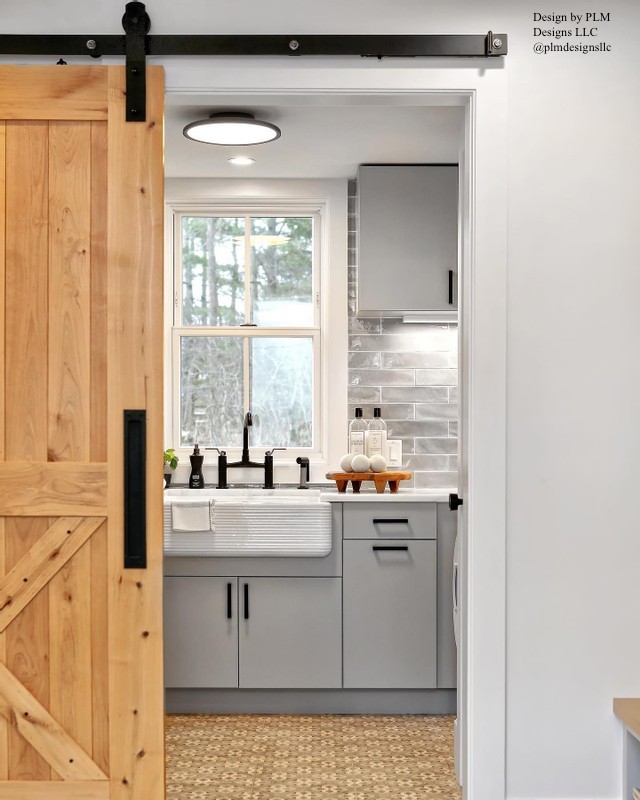 3. Bright and Colorful
This fun and bright color pallet will definitely brighten your day even if you have to do laundry! Adding a fun element like this bright orange door or colored cabinets will help lighten up your laundry room and make it feel less cramped. Featuring a mirror big or small on the wall of your laundry room will also help open it up and make it appear larger.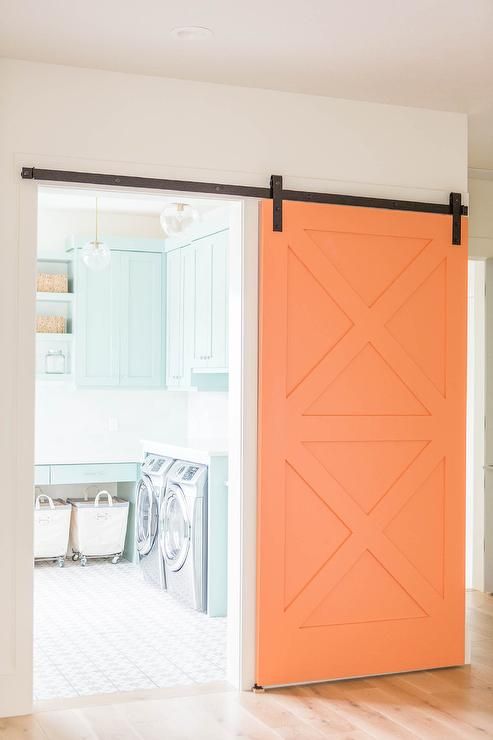 4. Light and Airy
This light and airy design is the perfect look for winding down and getting rid of all the bad energy that follows the act of doing laundry. Doing laundry can be very meditative and calming for some people! To achieve this look incorporate a few real pants, natural wood elements, and warm tones.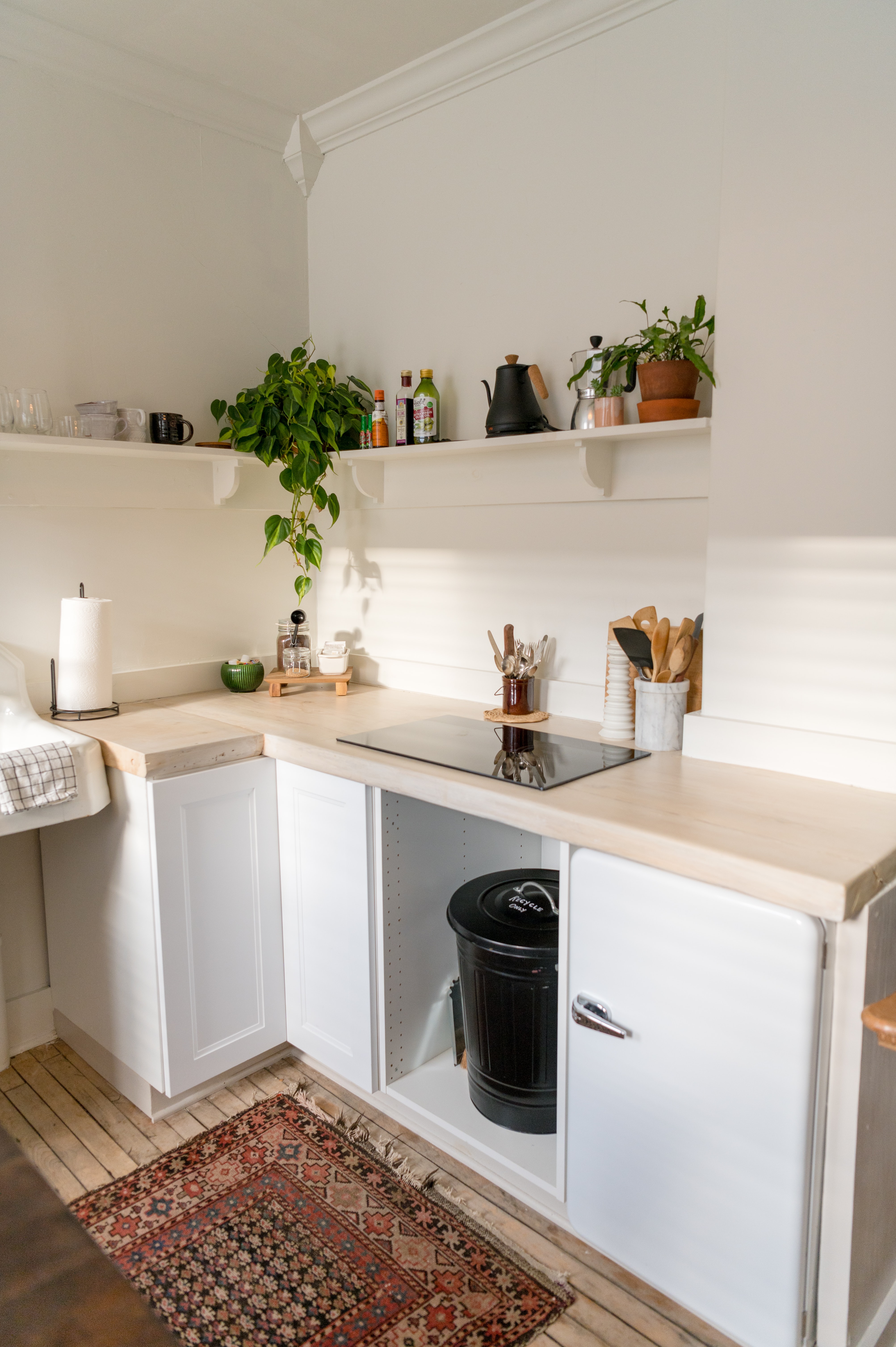 5. Functional
This functional look is perfect for homes with very limited laundry room space. You don't have to worry about any decor elements other than the door! Install a door that not only enhances the space, but also makes it easy for you to do laundry!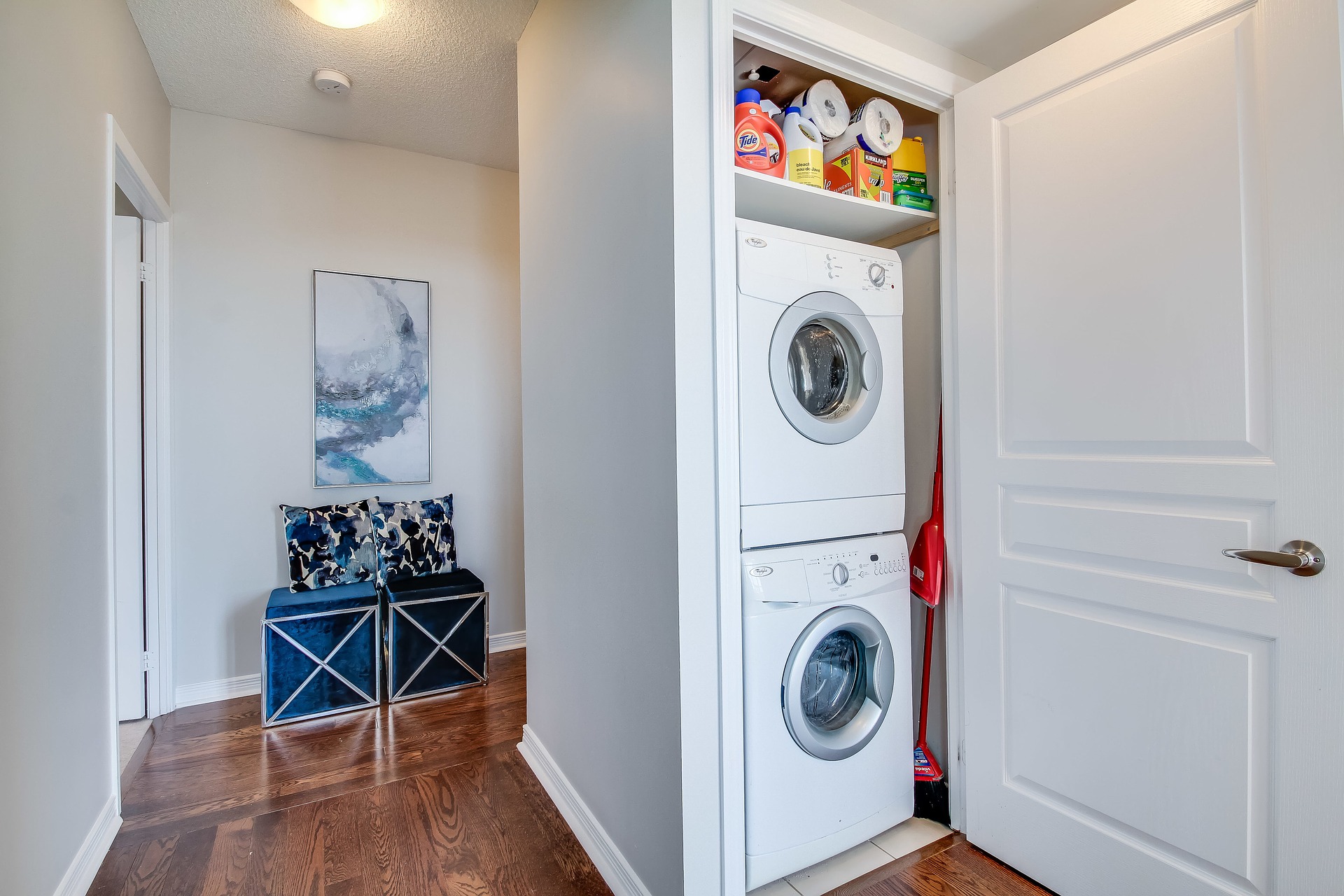 6. The Barn Door Mudroom by Amanda (@comestayawahile)
This barn door mudroom look is a fun and functional design perfect for any farmhouse or rustic styled homes. Using a barn door to separate your laundry room from another space will not only enhance your laundry room, but also help cancel out any noise or clatter that results from doing laundry! This is the perfect look for any homes with entryway laundry rooms or hallway laundry rooms.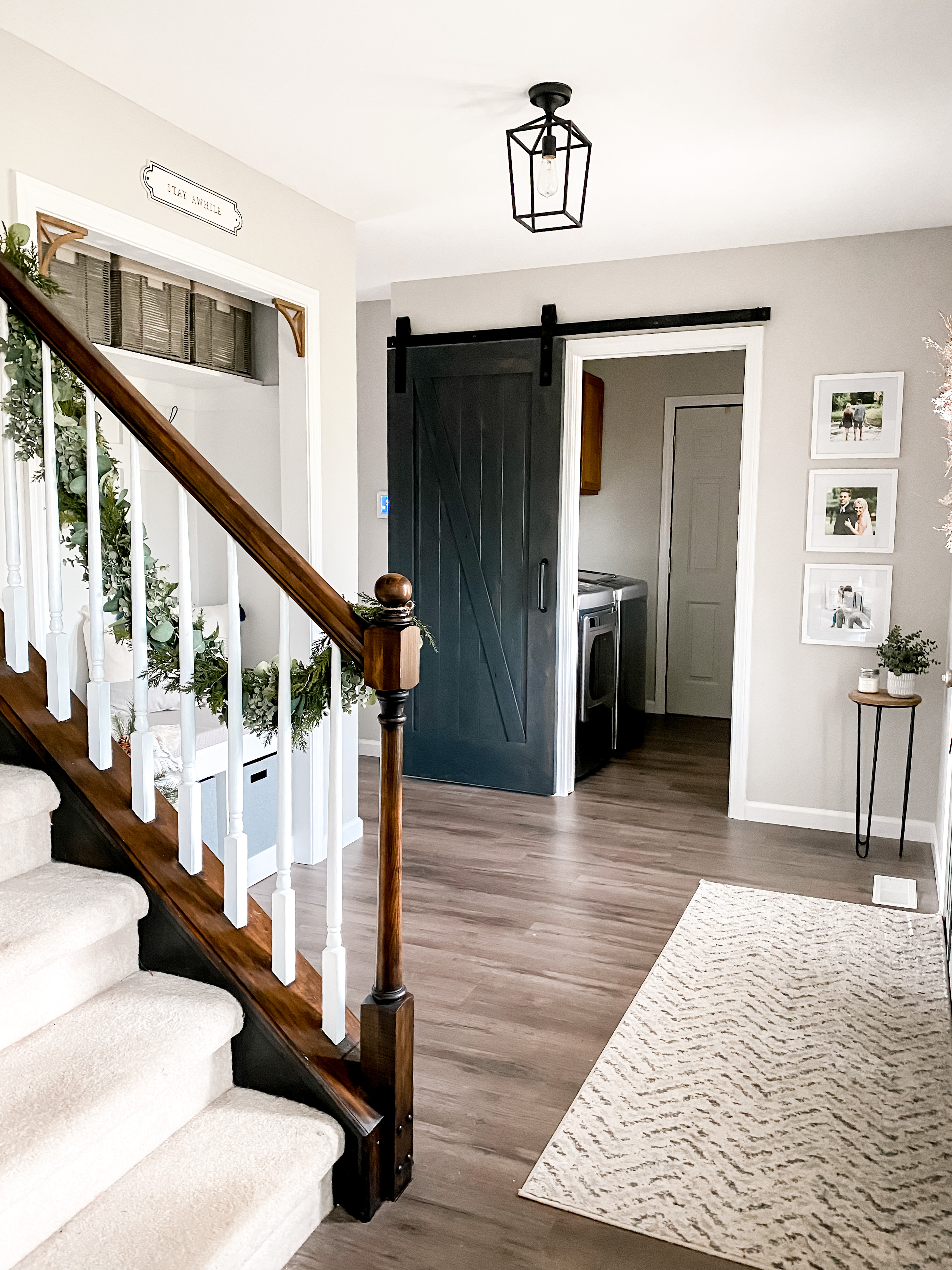 7. Goose Gray by Jamie Efle (@jamie_erfle)
This stunning, outdoorsy look is the perfect mix of modern and industrial decor. If you have the room, add a sink! Adding a sink to your laundry room will make doing laundry easier, quicker, and more efficient. Finding beauty in the necessities is the key to enhancing the look of any space!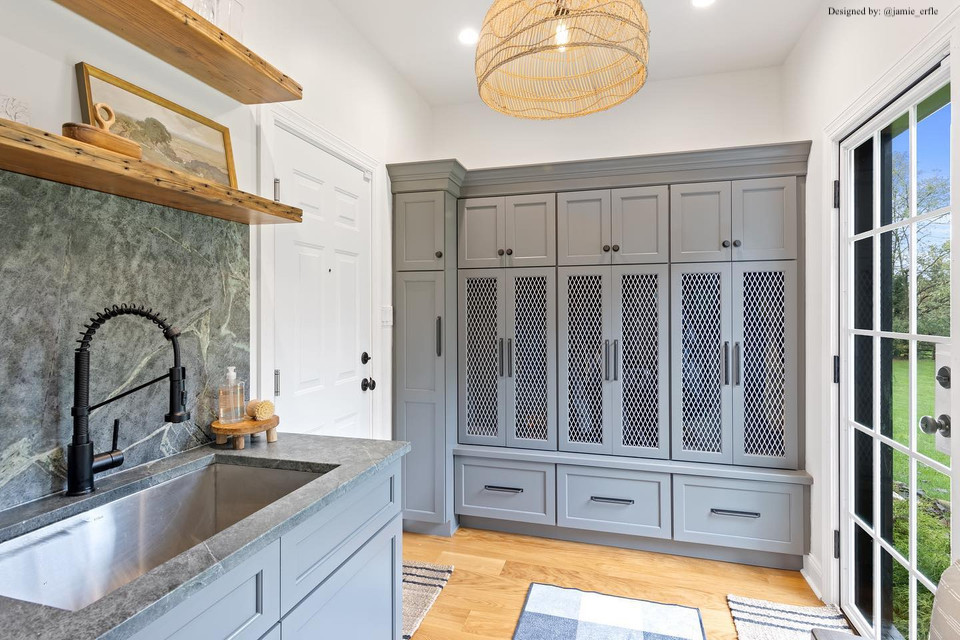 8. White and Tidy by Paulina Perrault (@paulinaperraultinteriors)
Looking for a clean and chick look? This one's for you! These bypassing barn doors are perfect for hiding a mess and obtaining easy access for your laundry needs. You can find double and triple bypassing barn doors perfect for any space! Paint your barn doors to match your kitchen or stain them to give your kitchen a rustic look!
9. Industrial by Natalie Reisinger (@blacksuburbanfarmhouse)
This incredible industrial look by Natalie Reisinger is perfect for a laundry room you're trying to showcase! From the barn doors to the patterned tile, this space is a true show stopper and shouldn't be tucked away! A clear glass barn door is perfect for exposing the beauty of a space and allowing natural light to flow through the home!
10. Simple and Cozy by Bob and Diane (@texasmodfarmhaus)
Sometimes simple and cozy is all you need! This design by Bob and Diane from @texasmodfarmhause features the cutest wicker basket organizers perfect for keeping your soaps, detergents, and stain removers organized and put away! A design that's relaxing and easy to keep clean is perfect for a laundry room, just ask this little pup!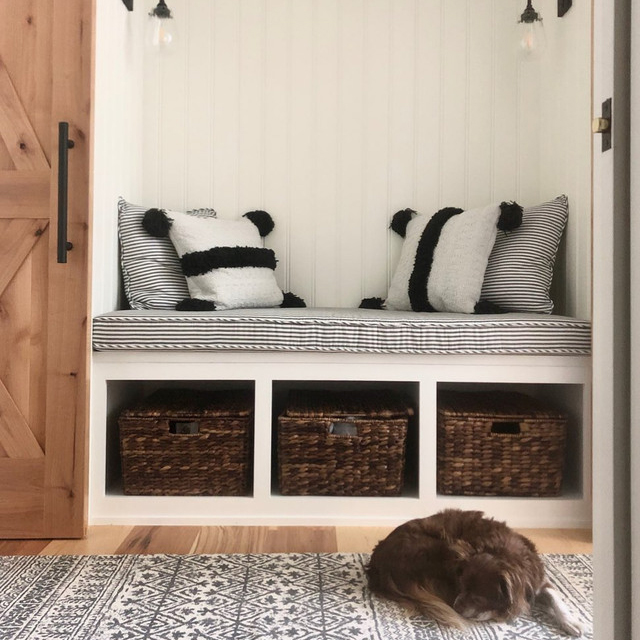 Follow us on Instagram and Facebook @barndoor.hardware for more barn door and home decor inspiration!